Camden Healthcare Cosmetic Clinic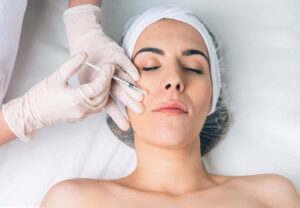 Camden Healthcare Centre is pleased to offer a Cosmetic Clinic onsite. The clinic is run by Dr H. Soe. The clinic offers professional service and proven results at affordable prices. It is located on premise at 37 John Street, Camden 2570.
The following treatment options are available:
Cosmetic Injectables & Skin Rejuvenation
Anti-Wrinkle Injectables
Wrinkles or expression lines are the end result of a number of events that act together as we age, these lines become more prominent. A complex set of changes take place at a cellular level – the degradation of collagen from excessive ultraviolet exposure, changes in hormonal levels and the damaging effects of free radicals. These degenerative changes in the presence of underlying muscle contractions cause the skin to crinkle.
Camden Healthcare Cosmetic Clinic provides anti-wrinkle injections. The clinic uses the treatments to improve the look of moderate to severe facial features such as frown lines between the eyebrows and on the forehead. The results from the treatment can usually be seen 3-7 days after the injections have been given. Anti-wrinkle injections generally last between 3-4 months dependent on personal and lifestyle factors.
Call Today & Book Your Consultation: 4655 5777
Have you had your Skin Cancer Check? Call Now – (02) 4655 5777